Pierra Menta Acclimatisation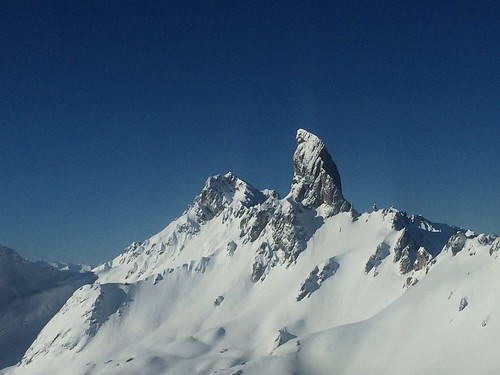 Robert Beddow and I recently completed the Pierra Menta ski mountaineering race. It was an amazing experience and this blog series details the trip.
We had 3 days before the race to prepare a little. We decided that as the race goes up to moderate altitude (2700m) it was a good plan to squeeze in a little bit of acclimatisation.
We arrived in France on the Saturday evening after Geneva airport hell. Recommend avoiding this airport as it is nasty!
We stayed in an AirBnB in Aime with the ex head of tourism for the la plagne ski area and his family.
On the sunday morning we drove to le plan du pars and parked the car. From here we skinned up the valley in lovely weather and snow up to refuge la balme for lunch.
Sewing machine purchase from Alastair Brunton on Vimeo.
We then had to do some trail breaking from 2000m to 2500m in deep heavy snow. Rob did most of the work as I was still feeling ill with sinus problems.
Refuge du Presset is totally pimp and initially we were the only guests, not even the guardians were there!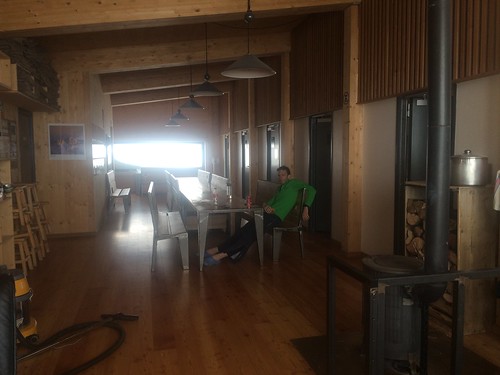 As I began for feel better, Rob began to feel worse and was unable to eat dinner! Things were starting to not look good for us being in any shape to race!
Feeling better
The next day we were both feeling a lot better after a good long sleep. The initial plan had been to take this day very easy with maximum a few hundred vertical and concentrate on acclimating to 2500m.
We spoke to the guardian for a recommendation and he recommended something wquite a bit longer. There had been quite a bit of snow overnight and it was blue skies and no wind. It felt wrong to have an easy day in such premium conditions.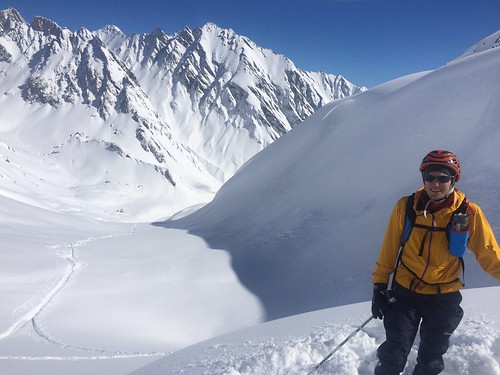 Col de la charbonniere became the plan for the day. The tour started with skiing blower powder back down to near refuge de la balme at 2000m.
We had to break trail basically all the way to the top of col de la charbonniere at 2500m.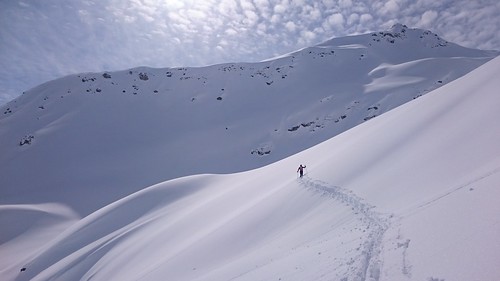 We saw one other skier going the other way doing a circuit traverse by the looks of it. He was rocking the skinnies naturally.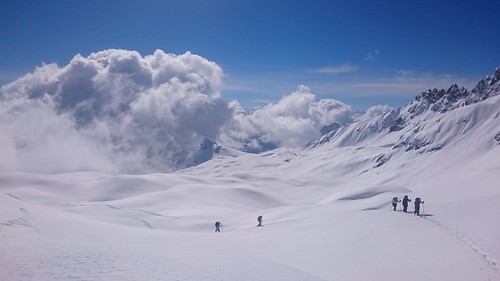 The descent was very good in untracked very deep light powder. When we got bored of turning we started practising out "blining" (bling pose straighlining)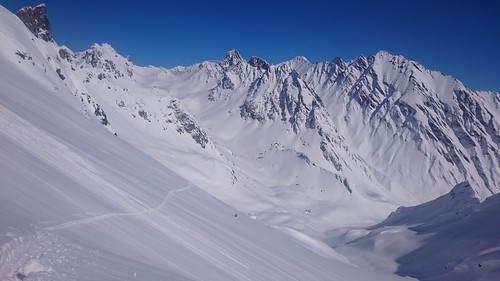 We then had a nice lunch break near the balme refuge and skinned back into the hut an an easy pace.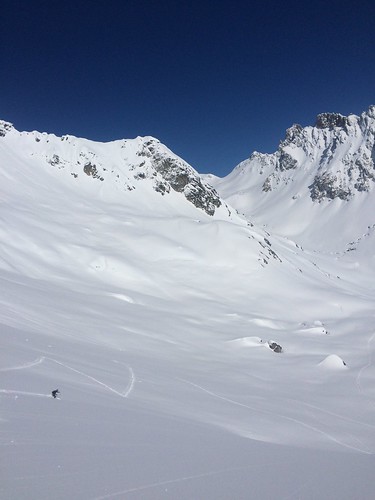 Day before the race starts
Its the day before the Pierra menta is due to start. We are at 2500m and it has snowed 30cm overnight. The easy ski out is no more. Its powder skiing to get back to the car.
We left the amazing refuge du presset at 8am and skiied some sweet sweet pow in dawn light.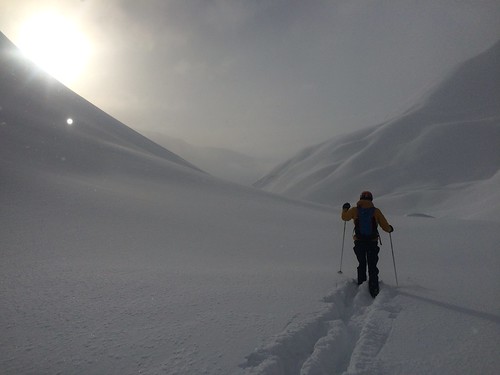 On reaching the flat valley we were presented with 4km of flat skinning without a skin track to glide out on. Luckily we had timed it perfectly, there were some other local rando dudes breaking a trail towards us! We chatted for a couple of minutes until they got closer then glided out back to the car via some breakable crust goodness.
The acclimatisation was a little rushed but I feel that it helped a bit when we reached similar altitudes during the race.
We drove to beaufort, registered for the race and went to the hotel. It was not to our posh standards so we booked an apartment down in the valley in beaufort. This was a good plan to get a little bit more space. We continued to eat at the hotel tho as the food was included and it was excellent!