Haute Route Equipment List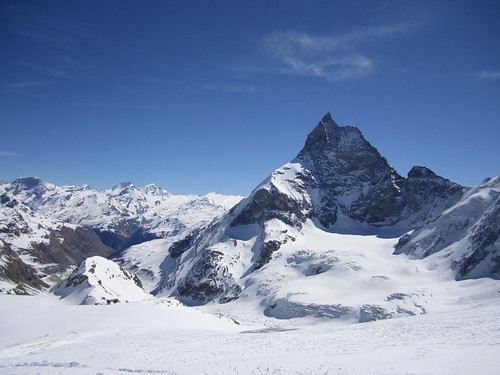 Here is a list of what I took on the haute route. We were a group of 6 without a guide and shared the safety equipment between us.
Generally go as lightweight as possible with everything on the list. Get the lightest possible as in the end it makes your skiing a lot more enjoyable and your skinning easier. Light is right.
Dynafit Bindings seem to be the way to go.
Technical Equipment
Skis (w/Dynafit

TLT

Speed)
Boots
Poles
Skins
Tranceiver – Fresh Batteries
Shovel
Probe

OMM

35L Pack (Maybe 40L would be better)
Straps for skis
Harness (Black Diamond Couloir)
Ice Axe (As light as possible)
Crampons (Lightweight Aluminium)
Ski Crampons
3 locking carabiners
2 non-locking carabiners
1 Ice Screw
Prusik cords (2 times 5m length of 6mm cord)
Belay device
1x dyneema sling (120cm)
1x dyneema sling (50cm)
First aid (blisters, duct tape, sports tape roll (important for blister prevention), plasters)
Ear plugs
Wee Headtorch – Fresh Batteries
Survival Bag
Compass
Maps (Martigny, Arolla 1:50000, Missed 1:25000 maps would be good to take these)
Route Guide (Scan and print out relevent parts from Peter Cliff's Book)
Watch
Victorinox Knife
500CHF – get from Geneva Airport
Toothbrush + Paste
Mobile Phone
Silk sleeping sheet (wool covers and pillows are provided by the huts)
Passport
Sun Glasses (Category 4 Important)
Sun screen and lip protection
Goggles
1 liter Water bottle.
500ml mineral water bottle
Pen + Wee Book
Medication (if applicable)
Lunch and Snacks – Day 1
Insurance Docs
Zip-lock bag for wallet etc.
Camera
Clothing
Shell Jacket
Waterproof Trousers
XC Ski Bottoms
Pertex Windproof
Primaloft Insulation Jacket
Light Fleece
Down Vest
3 x thermal tops (1x synthetic, 2x merino)
1 x thermal bottoms
Insulated Mitts
Light semi waterproof gloves (use these most of the time)
Liner gloves
Buff x 2
Sun hat
Hat x 2
2 x Thick Socks (Merino)
1 x Thin Socks
3 x Boxers
Group
Skin wax
Stove + Pan
Rope x 2