Canoeing in the Stockholm Archipelago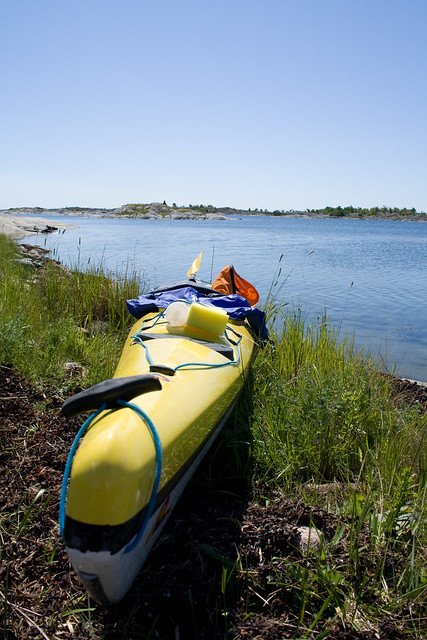 Canoeing in the Stockholm Archipelago
The plan was to take a trip to the Stockholm archipelago and experience 'endless islands' in the most simple form of sea transport.
The sea kayak. We wanted to go as wild as possible so made the decision to try and get kayaks from as far out as possible in the archipelago
so that we were in the wilderness as quickly as possible.
I had only been in a sea kayak once before going on the trip, but had done a wee bit of freshwater kayaking. This proved to be enough, but I was glad
that I had been taught some paddling technique from former world adventure race champion Chris Forne.
Other preparation was to get a few drybags together and to test out some kit which we plan to use on a slightly bigger expedition later in the
summer.
Day 1
I woke up in a large ferryboat approaching Stockholm having been in Helsinki the night before. The last thing I could remember was
doing klinsmans over a bunch of swedes laid out in the corridor. Too much high quality russian vodka had been consumed!
After arriving in Stockholm, priority was to stock up on food. We bought food for the whole trip in one go. There is a wee bit of thinking required to
do this, but its much better having all the food sorted in a oner. Cost about £60 for all the food.
A bus, then a slow ferry took us to the town of Berg on the Island of Moja. From here, it was time to sort out all our stuff and leave the beer soaked
jeans and smelly orienteering shoes behind!
After getting maps from the kayak guy, fixing a broken rudder and getting everything packed, we were on our way. We paddled for about 2.5 hours through beautiful thin waterways in the evening sunshine.
We randomly picked a little island that looked like a good starting point for the next day and went about getting out of the boat. Turned out there is a lot of bare rock in the archipelago which has a slimy covering. This means you have to pick out inlets and grassy areas for landing the kayak. We found this out the hard way. First, I got out of the boat and proceeded to fall over and swim in the deep water. Next, I held onto the boat and 'helped' Helen get out of the water. The result was she went swimming too!
We setup campsite and for the first time felt the sense of peace and chilledness that was to set the tone for the next few days.
Day 2
The plan for day 2 was to do an 8km open water stretch to reach the Store Nåsa nature reserve. A collection of wild islands in the outer archipelago.
For some reason I was crapping it, the idea of falling out of the kayak in open sea seemed daunting. Luckily nothing with awry and we made it to the islands in the mid afternoon. We setup camp then I tried some fishing with the rudimentary fishing equipment I had taken along. I was unsuccessful but luckily we had enough food to get by.
Day 3
Bantered about the outer islands looking at the protected birdlife and lazing around in the sunshine. We went swimming in the afternoon sun and got attacked by a couple of arctic tern birds.
The wind dropped so we decided to make the open water paddle back to the moja reserve. Quick dinner and wine, then hardcore paddling. Open water navigation is difficult, you really need to trust your compass and not your eyes!
We found another top class little island, with a top view and no mosquitos. Best of the trip.
Day 4
As we had been carrying all our drinking water (cooking with sea water however) we were running a little low so decided to try and take a detour via a well to get some more water.
We hunted for a bit, then had lunch, then tried again and managed to find it! Cold fresh water on a hot sunny day was ideal.
A couple of hours paddling and later we started looking for an island to setup camp. The first one I was attacked by another arctic tern, then at the second one I disturbed a family of toads sheltering in a drying up bog.
We managed to find another camp spot which was pretty sweet.
Day 5
This was the last day of the trip, we left relatively early for us (9:30am) and proceeded back towards berg to return the kayak.
We stopped at a wee town for some lunch then made the paddle back to Berg. On the way we nearly hit a ferry head on and the result was the we had to ride the wake! We hit is straight on a were happy we had spray decks!
When we arrived back in Berg it was midsummer, a big party in Sweden; especially big in moja. There were loads of fast speedboats with noisy engines. I have decided that if I had the pleasure of being able to decide between getting a yaught, or getting a speedboat, I would go for a speedboat any day! Those things are PHAT.
Ended up in 747 that night. (converted into a hostel at Stockhol Arlanda Airport)
Doing it yourself
Can fully recommend this trip, it was pretty relaxed with not a great deal of physical effort. You could have gone more full on and did bigger kayaking distances than us if you like.
Hired the kayaks from Möja Havskajaker
Remember you need all your water so make sure you have enough vessels. 2l per person per day is enough.
Buy all your food before starting the trip. There is a supermarket in Berg but recommend just buying all of the stuff you need in Stockholm as there is more choice in the supermarkets there.
You can get petrol in the islands so a liquid fuel stove works quite well.
Watch out for mosquitos as there were quite a few at night so you need a mossie proof tent and the ability to choose good campspots.