DIY Campervan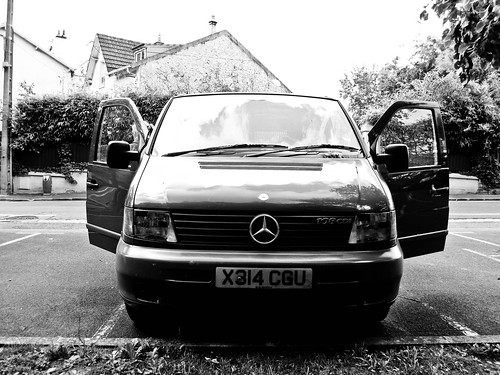 In the spirit of DIY with the likes of the haute route post , here is a description of the DIY Campervan we created last summer.
Helen and I went on a trip to France this summer past, starting in Nottingham and finishing in Inverness after a nice tour of France and parts of the UK.
Wild camping is banned in France along with a few of the other central european countries. Meaning that if you want to be 'out in the nature' you need to stay in a campsite or hotel.
However, there is a big campervan culture in France which means that campervans are accepted all over the place and there is a network of aires which provide essential services such as water and waste disposal.
The downside of campervans is that they are very expensive to buy and hire .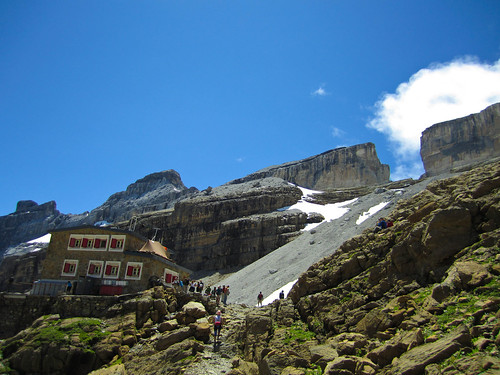 If you want to spend time in the alps or the pyrenees a good way to do it is with a DIY Camper™
There are some amazing Van conversions out there which take a lot of time and money to create. This is not one of them. This conversion can be done for minimal funds and in a couple of days.
Vehicle
Buy a van, max 2m high as this means you can park in regular car parks. Features to look out for are low mileage, ply-lined, carpeted. without bulk head, turbo diesel, side and back doors. Buy something which has a decent resell value as you will likely want to sell the van on after your trip.
As of 2011 £2000 would be a good budget. We started with a Mercedes Vito electricians van purchased from Autotrader vans.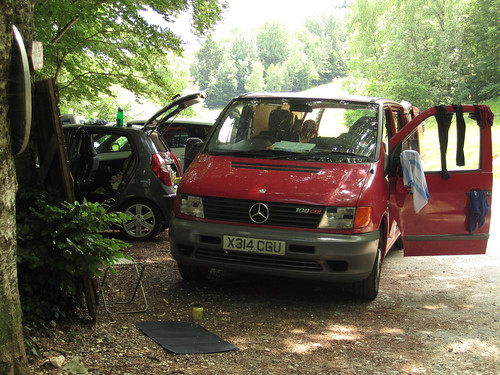 Sleeping
You can pick up an IKEA sofabed for about £100, this acts as both a sofa and a bed! Jobs a good un!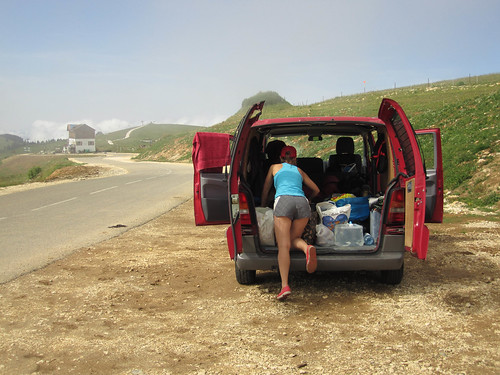 If you have more time / expertise an mdf sleeping platform design is far superior as it allows you to store luggage underneath the sleeping area when you sleep.
Mods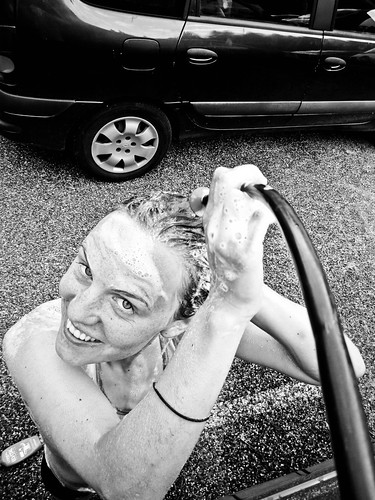 Inverter for a DC power supply (Laptop and Mobile) – sourced from Maplin.
Large water container. You need a lot of water storage as often days can pass without water. – sourced from Decathlon.
Solar shower. A large black back with a nozzle attached was excellent for cheeky washes. – sourced from Decathlon.
Seat organisers, these clip onto the back of seat.
FM transmitter, good way to listen to Ipod / Phone in the car without modifying the stereo.
Screw hooks on the ply lining for organising stuff.
Cooking was done outside with an

MSR

Whisperlite International stove running on petrol.
Take a basic tool kit for repairs. Our main issue was the back section of the exhaust needed tied onto the chassis for most of the trip. If you get a good van you will hopefully escape mechanical issues.
Curtains for the back doors with velcro attachments. Well made by Mrs Palmer.
Tips
Use the aires in villages for services (but buy something in the village!). You can also sleep in them as well.
When driving long distance we split the driving and did 2hr efforts, which can be maintained.
The pyrenees is a lovely area.