Arctic Cycle Trip Equipment List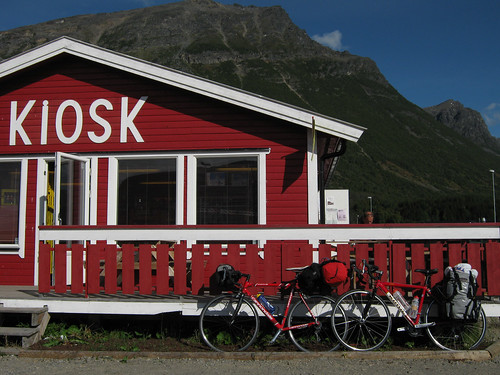 Im just back from a 2 week cycle touring trip in the North of Norway.
Below is an equipment list which lists individual items and shared items for 2 people. Having more than one person is great because it allows you to shared items and therefore carry less. Lightweight is the way to go here, we even threw things away and Helen sent stuff home to minimise weight.
Bike specific
spare inner tube
spare brake blocks*
Bike lights for tunnels.
2 water bottles (litre each)
helmet
bike shoes
neoprene booties
Clothes
bike shorts
lycra leggings
cycletop
sunglasses + case
bike gloves
semi waterproof gloves
thin gloves
windproof jacket
waterproof jacket
waterproof trousers
light insulation jacket (eg. primaloft)
2 buffs
lightweight shoes
pants x1
boxers x2
tshirt x1
small towel
thermal x3 (long sleeves)
leisure trousers (lightweight)
sawn off toothbrush
hat
Stuff
phone
mp3
book
passport
watch
credit cards
cash
medication (eg. inhaler)
Sleeping
Down Jacket
Sleeping bag
Thermarest
Wee pillow
Shared Items
bike lock
sun tan cream
Stove + Lighter
Pans
Tent
Tent footprint
Cooking Oil
Washing up stuff
ugs
Spoons
Pen knife
wee book + pen
wee bit of shampoo
toothpaste
first aid
survival bag
puncture repair kit
pump
multitool
maps and route info
compass
flight documents
camera
Bikes
Basically all the other cycle tourers we met had much much more stuff than us and were on slow bikes.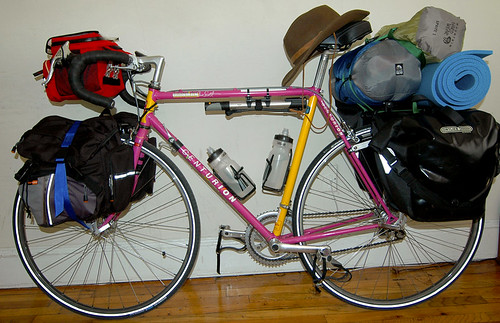 My Bike
I went for an approach of converting an actual racing bike for cycle touring on which went really well. It was essentially the same setup I used for credit card touring through the alps a couple of years ago with the addition of an alpkit drybag on the back which held the tent and 2 thermarests.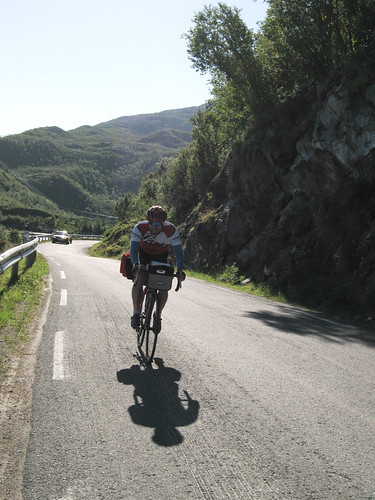 As a side note, often when saving weight people scrimp on underbody insulation. This is a bad move as it can make sleeping really uncomfortable. Therefore we decided to take the thermarests which ensured for a cosy nights sleep. They also pack down relatively well when wrapped round a tent.
The bike was very fast and once up to speed would cruise at 25 – 30 kph no problem. The downside is that it is a bit of a weak bike for load carrying so you have to be nice to it when it comes to bumps / gravel / curbs etc. The wheels have not that many spokes so will buckle easily.
Helen's Bike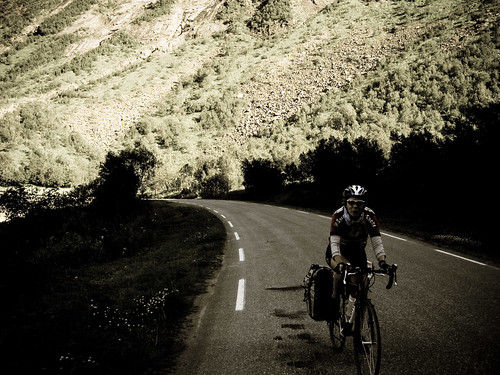 For Helen's bike we went for a more solid solution. A burly cyclocross racing bike with a rack and some carradice waterproof panniers. This setup is a reliable setup for touring as the frame and wheels are strong with high gearing for when the need arises to go fast.
The downside is that the panniers end up holding more stuff, dont have very good handling and are not as aerodynamic as the racing bike bags I was running. This meant that on downhills my bike was a lot faster. As it cut through the air a lot better.
In general I think the best solution would have been for both Helen and I to use similar equipment as often it was hard to stay together as my bike was that much faster.